Whether you call it the City of Lights, the City of Love, or just Paris, this is a city that everyone has a great time in. With so much beautiful culture, architecture, and scenery, it's a favorite for many. One of the best parts of visiting Paris and its culture, is experiencing the food. Paris has some of the best cuisine that should be appreciated if you ever find yourself visiting this French capitol. Here's a list of the foods you need to try in Paris.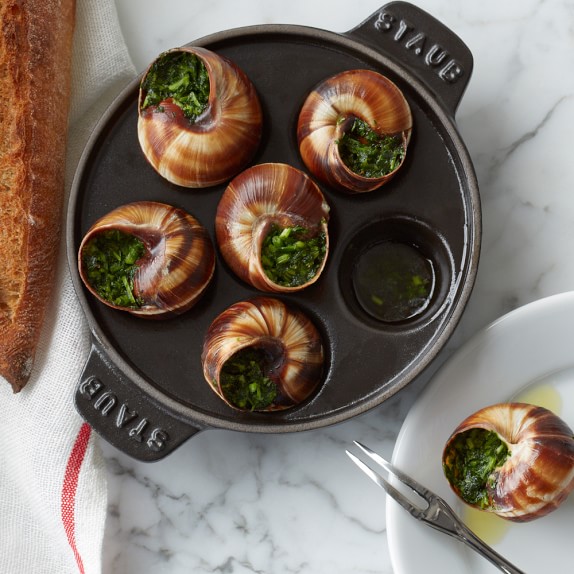 1. Escargot
The first item on our list of foods you need to try in Paris is escargot. Most kids learn what escargot is and scoff the idea. In reality, snails are a delicacy, and don't taste near as bad as they may seem. It's definitely a bucket list item that everyone should check off their list while in Paris. Allard is a great place to give them a try.
2. Croque-Monsieur/Croque-Madame
This is a ham and cheese sandwich that is famous in France. If you add a fried egg to the sandwich, it goes feminine (clever eh?), and is even more delicious. Partie de Campange is perfect for some croque-madame. Make sure to add this item to the list of foods you need to try in Paris.
3. Crepes: Savory & Sweet
Crepes are probably the most well known French foods, as they are served regularly all over the world. They are basically flat pancakes, and can be served as the main course or a dessert item. Some of the more popular savory crepes can include eggs and ham, smoked salmon, or mushroom and cheese. Meanwhile, dessert crepes commonly include chocolate sauce with some sort of fruit, like strawberries or bananas. You can order crepes almost anywhere in Paris, but Breizh Café is a good place to start.
4. Cheese
Paris has some of the best cheeses in the world. They have such a variety to choose from and the people who make them are experts on the subject. Cheese and Paris just go together. If you're looking for a good place to sample some of these amazing cheeses, Fromages et Ramage is perfect.
5. Salted Butter Caramel
Henri Le Roux won the award for the best sweet in France in 1980 for their salted butter caramels. Today, the production is still hand crafted and the chocolates and caramels are just as good. They have a few locations in Paris, so make sure to add this place to your list.
6. Hot Chocolate
With desserts being so delicious in Paris, the hot chocolate is just as good. Located near the Louvre Museum, Angelina's makes some decadent cups of hot chocolate. The hot chocolate is a must on our list of foods you need to try in Paris.
7. Baguettes
The bread in Paris is nothing like what you find in the States. Sure, we have French bakeries and restaurants, but we don't have authentic French created bread, like baguettes. The bread is so fresh and delicious, you can eat it on a sandwich with a slice of cheese, or just on it's own. Le Granier à Pain has their famous 'La Baguette de tradition' (traditional French baguette) that is amazing.
8. Macaroons
These sweet treats are gaining in popularity world wide. However, France is where they began. They've been popular in Paris for an eternity, and should definitely be enjoyed where they originated. Macaroons come in so many different colors and flavors, you're almost guaranteed to find one you like. Carette is one of the most popular locations to grab a bite of this treat.
9. Wine Tasting
France is one of the largest producer's of wine in the world. They have so many different producers from various regions all working to make of the best wine that we've ever tasted. Trying some of this country's wine needs to be on everyone's list of things to do while eating their way through Paris. O Chateau offers wine tasting deals for those that book at the last minute.
As you can see from this list of foods you need to try in Paris, Paris has some pretty delicious food options. With the amount of carbs and sugar on this list, hopefully you're getting a lot of walking in as you see the sites to make up for it. Check out our guide to visiting Paris HERE for tips on what to do outside of eating in Paris. Please let me know in the comments below if you have tried any of these foods and what you would add to the list!