The Lunar New Year in Vietnam is a very special holiday. The Vietnamese value this holiday over any other, even Christmas (to my surprise). I had the experience of visiting Hanoi during the new year, and I'm getting ready to celebrate my second one this year as an expat in Ho Chi Minh City. Lunar New Year is referred to as TET in Vietnam, and the entire country prepares for it. Shops close down, people travel to their hometowns, and they eat lots of food. I wanted to share my experience with TET in Vietnam to help other visitors understand this marvelous holiday.
What is TET?
TET is what the Vietnamese refer to Lunar New Year, or Vietnamese New Year. And don't think these three letters are easy to pronounce. I can never say it right. Watch this video to hear how a Vietnamese person says it. TET celebrates the arrival of spring, and always falls on a day in late January or early February. Vietnamese people usually take a week (or more) off work and school.
The company I work for shuts down from February 2nd to the 10th of 2019, a whopping 8 days of freedom! What's interesting to me is that my company didn't give us Christmas day off, we were expected to work it like a normal work day. But then we get 8 days off for TET – I'll take it!
Leading Up to TET
Before the TET holiday occurs, the cities decorate like crazy. There are lanterns, lights, balloons, flowers, and so many other items used to decorate the streets. The roads become absolutely gorgeous. My favorite decorated street in Ho Chi Minh City is Nguyen Hue in District 1. It's closed off to cars and they have shows and displays everywhere to make it a beautiful area.
Because so many Vietnamese go back to their hometown for TET, it can be hard to find bus or plane tickets around this time. If you're traveling around Vietnam during this time, you really need to plan ahead. I was planning a trip with some friends since we had so much time off, and a lot of the plane tickets had doubled in price, and bus tickets were a lot harder to find.
During the TET Holiday
Once TET in Vietnam begins, everyone is back in their hometowns. The first day of TET is reserved for family. Everyone travels to their hometown (or their spouses). Its customary to visit the grandparents home, and the children wear new clothes and greet their elders. The elders then give the children lucky money, those cute red envelopes with money inside.
The second day of TET is reserved for friends, and the third is for teachers. Children will visit their teachers' homes with gifts. Teachers are valued highly in Vietnamese society. It may seem weird for an American to visit their teacher's home, but it's normal in Vietnam.
Traveling During TET
As a traveler, TET in Vietnam can be stressful. Because everyone goes home for TET, many shops and restaurants are closed. When I was in Hanoi last year, prices were more expensive during TET and places were always closed. It's a completely different town during this time. I remember many nights in my hotel room eating a cup of instant noodles because we couldn't find anything else to eat.
Once TET was over, the prices for many of the shops dropped also. Shops increase their prices for this time of year. Unless you can plan ahead for your activities and meals, I would recommend avoiding Vietnam during this time. It's a lot harder to get by and a lot of the places you'll want to visit will be closed or more expensive.
TET Customs and Traditions
There are many customs and traditions that the Vietnamese take part in during TET in Vietnam.
Lucky money is given to children to help them study and live a prosperous life. The kids definitely love this part of TET, I mean, who wouldn't love free money?
Houses are cleaned from top to bottom BEFORE TET begins. This is to get rid of all the bad toxins from the previous year and to help start the new year on a "clean" slate. It's bad luck to clean the house during TET, as its seen as sweeping the good luck away for the new year. I heard many of my Vietnamese friends complaining about how much cleaning they had to do at home leading up to TET. They are pretty serious about this.
To honor ancestors and wish a happy and wealthy new year, the Vietnamese configure a beautiful fruit tray with many colors. A lot of these fruits include pineapples, mangoes, papayas, coconuts, dragon fruit, and apples.
The first guest that enters the home on New Year's Day is meant to symbolize the luck and good fortune for the year. The the first guest is hand picked to be someone that is healthy, kind, educated, and is a good fit with the zodiac of the owner of the house.
Food During TET
During TET in Vietnam, there are many different foods you'll see that you should definitely try if you get the chance.
Bahn Chung: These are square rice caked cooked with pork and beans. This is probably the most common item you'll see, and you can distinguish it by its square shape wrapped in banana leaves.
Bahn Mut: This is candied fruit usually offered as a snack for guests. It's fun to nibble on as you socialize with friends and family.
Xoi Gac: Sticky rice mixed with jack fruit make this signature red dish. It's supposed to bring good fortune and happiness to the new year.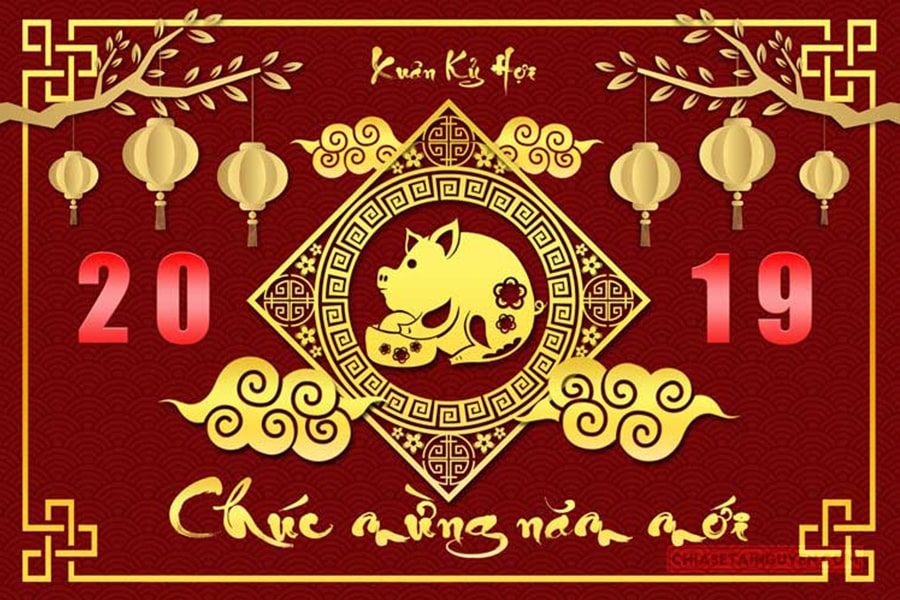 How to Wish Someone a Happy New Year
Vietnamese is a tonal language; there's six of them! So it's very difficult for a native English speaker to pronounce. In writing, to wish someone a happy new year, it's spelled like this:
"chúc mừng năm mới"
It translates literally to "wish happy year new." If you experience TET in Vietnam, read that phrase and try to say it to someone. You just might make their day. I loved experiencing TET in Vietnam, it's a happy time to be in the country. Have you experienced Lunar New Year in another country? Let us know in the comments below! Make sure to contact us if you have any questions about traveling in Vietnam.
Happy Travels!